Blog
Clear Mountain Bank Celebrates Customer Success Story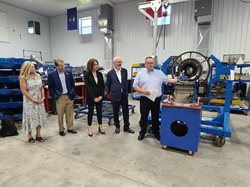 Clear Mountain Bank recently participated in a celebratory event featuring its customer, Engine Management Specialist, LLC (EMS), a jet engine maintenance company based in Clarksburg, West Virginia.
The bank assisted EMS with obtaining financing, and part of that funding was provided under the Banking on Business (BOB) program sponsored by FHLBank Pittsburgh. The BOB program was created to assist small businesses to obtain needed funding to help create jobs and spur economic development within the local communities of member banks. The event was designed to feature a borrower that successfully utilized the BOB program to achieve those goals.
"Clear Mountain Bank is committed to serving the needs of small businesses in our local communities, and the EMS relationship serves as a shining example of why we do what we do," said David M. Thomas, president and CEO of Clear Mountain Bank. "Through our long-standing partnership with FHLBank Pittsburgh, we are proud to have played a vital role in helping EMS to grow its business and expand its workforce, which will provide tremendous benefits to the local community and the state of West Virginia for years to come."
The celebration took place at EMS's Clarksburg, WV facility, and featured several national and state community banking industry leaders who participated as special guests. Rebeca Romero Rainey, president and CEO of Independent Community Bankers of America (a national trade association representing community banks all across the country) and Donna Tanner, president of Community Bankers of West Virginia (a state trade association representing community banks across West Virginia) were both present and spoke at the event. Winthrop Watson, president and CEO of FHLBank Pittsburgh, and Tim Critchfield, owner and president of EMS, also provided comments.
A common theme among those speaking at the event was the important role that community banks, like Clear Mountain Bank, play in supporting small businesses that drive economic growth. Near the conclusion of the event, EMS announced exciting expansion plans that will include opening an additional facility and employing more team members in Harrison County.
Clear Mountain Bank is a locally owned and managed community bank that has been serving North Central West Virginia and western Maryland for more than 125 years. The bank provides a comprehensive array of digital and traditional banking products and services to meet the needs of its personal, business, professional, mortgage, and financial advisory customers.
Widely recognized for excellence in financial services, Clear Mountain Bank has consistently earned a 5-star superior rating for financial strength and stability from BauerFinancial and has been named 2021 West Virginia Community Lender of the Year by the SBA West Virginia District Office. Additional information is available at www.clearmountain.bank.